I am always amazed at this time of year as the leaves explode onto the trees in the boreal forests of the Eastern Beaches of Lake Winnipeg.  A week ago, the trees were barren, waiting for some unknown signal to turn from brown to green. Like frustrated Winnipeg commuters, when the signal comes, nature accelerates the change, anxious to leave the last remnants of a long winter behind.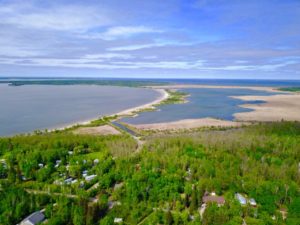 On Hillside beach, the sand is warm underfoot as I pause to gaze across the bay to Victoria Beach where suddenly the palette that defines the shoreline of early spring  has suddenly changed.
Living in Hillside Heights allows you to experience the natural beauty of all the seasons. Now that nature has decided that summer is here, we need to pause, and savour the moment.
If you are looking for a cottage lot to build your dream home, consider Hillside Heights. Spectacular lake views, blanketed by a thick forest that feeds your soul.  Be near to nature's grand plan.This is where you want to be.
This is where your soul wants to be.